Software as a Service is growing rapidly and will likely quadruple within a decade. In order to stay visible and competitive, SaaS SEO is becoming more important than ever.
SaaS businesses are almost entirely online, and rely more on digital marketing to reach their customers than companies with physical products and stores. A practical blueprint for SaaS content is therefore essential to success.
The following checklist is based on strategies that we have successfully implemented. This guide will ensure that you don't miss any SEO essentials.


Takeaways from



By aligning keyword research and a funnel marketing strategy, you can reach customers at all stages of the buyer's journey.


Content that addresses customer pain points engages customers by showing them how to solve their problems.


On-page SEO is essential for users and search engine to navigate your site intuitively.


Search engines look at backlinks as a way to measure your brand's authority.


Lead magnets that convert web traffic to leads and conversions.

SEO Value for SaaS

Be sure to understand why an SEO strategy for SaaS that is proven and effective is important before you take action. It takes several months before you start to see benefits.
Increase in organic web traffic: Results start slowly but can exponentially increase over time.
Increased brand recognition and authority: Increased traffic improves your domain authority, which helps you to rank higher in search results.
Low customer acquisition cost: You can gain new customers at a much lower price than with pay-per click or social media ads.
Conversion across channels is better: SEO compliments other marketing efforts, as you can repurpose your content and drive customers to other channels.
Customer retention rates are higher: Your authority and awareness will keep you at the forefront of your customers' minds.
You can see that focusing on SEO will eliminate common marketing challenges, and help you to capitalize on the growth of the SaaS market.

Image source: Search Engine Land

SEO for SaaS – Your Complete Checklist

Follow these steps to develop or improve your SEO strategy for SaaS.
Keyword Research

Content marketing is a foundational part of any business. The SaaS market is flooded with content and competitors.
This is a fact of marketing that cannot be changed. You can still use keywords strategically to increase your brand's visibility and competition on search engine results pages.
SaaS companies may use a pyramid-shaped SEO framework to cluster and prioritize keywords, thereby optimizing funnel marketing opportunities.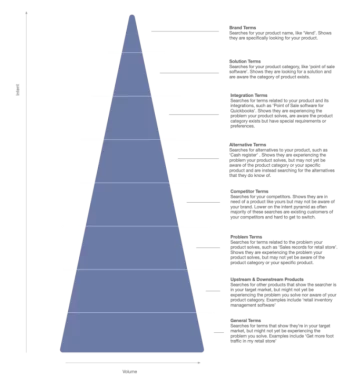 Image source: CXL

The categories at the top of a pyramid have a lower search volume, but correspondingly – heightened intent to purchase. In contrast, the categories at the bottom have the highest volume and the lowest intent.
SaaS companies need to create content that covers the entire pyramid. You need to create content in a balanced, intentional way that prioritizes the areas with the greatest return on investment.
The SEO pyramid framework will help you to brainstorm keywords for each category. This framework will also help you create great content at every stage of the SaaS buyer's journey.
Funnel Marketing Strategy

Did you know B2B buyers complete 70 percent of their research on brands before contacting a company? Leads have gone through multiple stages of the buying journey before they contact your sales team.
Your content will be your most effective tool to keep potential customers interested until they are ready to contact you. This means that you need to create content for each stage of your sales funnel.

Image Source: VMG Studios

Keep a solid marketing funnel strategy by comparing your keyword list to your SEO pyramid.
Your SEO strategy for SaaS includes creating relevant content at each stage for buyers? You'll be better able to convert customers into sales or leads if you create relevant content for them at every stage.
You can also identify where your content is lacking, and where your potential customers are more engaged. This will help you optimize your content strategy.
Content E-E.A.T

E-E.A.T. stands for expertise, experience, authority, and trustworthiness. These criteria are important Google ranking factors for SaaS businesses.
Your E-E.A.T rating is a key factor in determining if Google's algorithms consider your brand to be an authority in your industry (or not), and how you will rank on the SERPs.
The following factors are important to your E.E.A.T score:
Create a detailed, clear overview of your company and bio to show why you are an expert within your field.
Social proof: Include customer testimonials and reviews throughout your content and website to improve SEO for your SaaS Brand.
Guest posts and appearances – Appearing on other brands' blogs, webinars or podcasts and in interviews will help you build your authority and credibility.
Use high-quality and trustworthy sources whenever possible.
Content that is human-centered: Create content for people, not search engines.
This last point is crucial, because search engines have become smarter and are looking for content with value. As algorithms hunt down and destroy posts generated by artificial intelligence, information that offers real benefits will be even more valuable.
Check out this 20-point checklist to learn how we can create quality content for our clients.
Pain-Point Content

B2B customers look for SaaS providers to assist them in achieving something that they can't do alone. They are dealing with a challenge or a problem, which is a pain point.
Incorporating pain points into your SEO strategy for SaaS will demonstrate the value of your company and products by highlighting your ability to solve problems or meet specific customer needs.
Think of this simple, but accurate illustration of thinking in terms of problems and not solutions.

Image source: Ceralytics

It can be counter-intuitive to start by focusing on the pain points. You're selling solutions, after all.
It's true. But in the end, customers will only be interested in your solution when they see how it addresses their problems. By focusing on customer pain points, your content will engage customers and make them feel heard.
SaaS users do a lot of research online, and they almost always come across several brands who offer the solution that they are looking for. You will stand out in the crowded market if you can demonstrate that you understand what your customers are going through.
Tech SEO

You should not focus on technical SEO if you want to achieve high-value SEO for SaaS. Focus on the following major factors:
Google Analytics: Install Google Analytics to track site performance, and identify technical issues.
Site structure: Create a site structure that is intuitive and easy to use for both human users and search engine crawlers.
Secure protocols: By default, your website should use a HTTPS version.
Mobile optimization: Google's mobile-first indexing is a result of the fact that most users now access their sites via mobile devices. Optimize your site to make it more user-friendly.
Your rankings are heavily influenced by the attention to detail at the backend of your website. Perform a technical SEO audit in order to optimize your website.
On-Page SEO

Different on-page changes make your content easier to read and more appealing to algorithms. You can optimize your pages using:
Use of keywords in titles and headings
Writing a captivating meta description
Include images and optimize them with descriptive alt texts
Links to related pages on your website
Do not forget to implement these features in older posts. This can make a page that has few visitors become more popular.
Backlinks

Backlinks are hyperlinks from other websites that point to your content. These links are important for SEO in SaaS, because the ranking algorithms consider them to be a sign that your content is authoritative.
It's not easy to get them. You'll need to be patient and play the long game of content marketing.
You will gain more traffic and visibility when you create content that is valuable, engaging, and shareable. As more people share your content, the number of backlinks will increase.
Ahrefs, an SEO brand with a wealth of experience in link building, has some tips for you.
High-Value lead magnets

How can you begin the relationship sooner, since most of your customers will do their research before they contact you? Create lead magnets that are irresistible!
Lead magnets are valuable content you provide in exchange for the contact information of a potential client. Lead magnets need to be useful and help the audience achieve something in order for them to work well with SEO.
Lead magnets that work are actionable and specific, but they still leave customers wanting more. Lead magnets can include:
Checklists in PDF to help you manage a difficult or complex problem
Demo or explainer videos can help people connect visually with your brand, people and products by providing important information.
Whitepapers and ebooks that highlight your expertise on specific topics
Incorporate lead magnets into your content creation process.
Get a quick boost to your SaaS SEO performance

This list is comprehensive and contains many important tips to help you achieve your goals. Help is close at hand, even though the list of essentials can seem overwhelming.
When you are ready to improve your SaaS SEO strategy, check out Marketing Insider Group's Content Builder Services. Contact us for a free consultation and start optimizing SEO today!
The complete SEO Checklist for SaaS Companies was first published by Marketing Insider Group.
Frequently Asked Questions
What is the role of marketing in a business strategy?

Every business strategy must include marketing. Without marketing, there would be no way to tell the world what your company does. Marketing without sales would be pointless. Marketing is essential to any business plan.
Marketing is important, but not everyone gets it. Marketing is often seen as a matter of spending money on advertising campaigns. Marketing encompasses much more than this. Marketing covers everything you do for your company to be recognized and respected in the marketplace.
Think about how you want your customers to perceive you. How will my customers see me? How should my world perceive me?
If you don't know the answers to these questions, you probably haven't considered marketing.
What should I budget on my first digital marketing campaign for?

It depends on the type of campaign you plan to launch. Your first campaign may cost you between $50 and $100.
You can purchase advertising space on search engines like Google and Bing to get started. These ads cost approximately $10 per click.
Banner ads can be placed anywhere on your website that you own. This will help you attract new visitors and bring them back to your site.
You can also hire a freelancer to design some banners for you. Freelancers typically charge between $20 and $30 per hour.
Once you have created your first advertisement, you can start tracking results. You can find many free analytics software on the internet.
It is also possible to track data manually. To collect information about your campaigns, you can keep a spreadsheet where you record each metric (such as clicks, impressions, etc.)
After collecting this data, you can determine whether your campaign was successful.
You can always try other methods until you find the one that works.
What is the difference in marketing and advertising?

Advertising is a type of communication that promotes products and brands. Advertising usually has a clear call to action, such as "Buy now!" You can also click here.
Marketing is another way to communicate the mission, vision and values of your company to potential customers. Marketing helps to build relationships with prospects and customers.
Online sales of shoes can be a great example of marketing. You may use marketing to tell a story about you and what you have to offer. Talk about your philosophy, history, and commitment towards quality. You could also share testimonials from customers who are satisfied with your products. You could even organize an event in which you give away shoes for free to encourage people to visit you website.
Marketing, or telling stories, is in essence about telling stories. Advertising is about selling goods.
How does search engine optimization work?

Search Engine Marketing, also known as SEM (Search Engine Marketing), is a vital component of digital advertising. SEM includes paid advertising, sponsored ads, display ads and paid inclusion. It also includes search engine optimization (SEO), mobile marketing, social media marketing, video advertising, mobile advertising, and other related services.
What are 7 steps in an internet marketing strategy plan?

Internet marketing strategies allow businesses to achieve their business goals by using online media. The seven basic steps include planning, research, implementation, monitoring, analysis, optimization, and evaluation. Each step is critical for effective internet marketing, and should always be done.
Planning – This step involves identifying and developing a strategy for reaching your target audience. Consider who might purchase your product/service.
Research helps you understand your customer's needs and interests, so you can determine which products or services best match their expectations. It provides valuable insight into consumer behavior, trends, and other information.
The first step in implementing your campaign is to select a platform (e.g. Facebook), and then determine where to place your ads. Once you've chosen your platforms, ensure they're set up correctly. Decide whether to spend money on advertising or pay per-click.
Monitoring – Monitor your progress to ensure that you are able to see the results of your efforts. Google Analytics provides analytics tools that allow you to track traffic flows and conversion rates.
This allows you compare results to benchmarks as well as previous performance levels. This step will help you to identify areas that are underperforming.
Optimization – Optimizing a site is making changes that increase its effectiveness in attracting visitors. Your site could be enhanced with new features, or changed in the way that users navigate.
Evaluation – Evaluating your progress lets you see how well your campaign performs. Do you see any areas for improvement? If not, then you may have reached your goal. If there are still problems that need to be addressed, you will need to reevaluate.
Is there any risk associated with digital marketing

Yes, digital marketing has its risks.
To protect your online reputation, it is important to be cautious with what you post on social networking sites.
Also, you must ensure that all of your content is original and does not infringe on anyone else's intellectual property rights.
In addition, you risk losing control of your brand image if you do not monitor your online presence closely.
You could also be vulnerable to identity theft if your personal details are used without your consent.
How to Protect your Online Reputation
Be careful about what you share on social networks
Make Sure All Content Is Original and Doesn't Infringe Any Other Person's Intellectual Property Rights
Monitor Your Brand Image
Use strong passwords
Don't share personal details without authorisation
Notify Us of Any Unauthorized Activity immediately
Don't Post Photos Of Yourself Or Others In A Disturbing Way
Never divulge your Social Security Number
Stay up-to-date with the most recent news
Avoid Scams
Choose A Secure Password
Always Check For Updates
Don't share too much information
Pay attention when you give out credit card numbers
Avoid sending money by E-Mail
Look out for fake websites
Bad reviews can be a big problem for your business
You should regularly check your credit reports
Keep an eye on your privacy settings
Ask Someone Who Knows You Well Before Sharing Something
What are the main types?

Marketing is the act or communication of ideas, values and messages to consumers. Advertising and marketing are often interchangeable these days. But in reality, marketing involves more than just advertising. Marketing can include all communication methods that promote or market a product, service, or idea.
Three key components of marketing are branding, promotion and distribution. How a company is identified to its target audience is called branding. Promotion is the act of getting attention for your brand by using paid advertisements, free promotions, and public relations activities. Distribution is how you get your message across to your target audience. It can be done through traditional methods like television, radio, print, and email, but new technologies have made this more accessible than ever.
Statistics
A poll earlier this year found that 14% of older Gen Z's had bought an item in the previous six months based on an influencer's recommendation. (influencermarketinghub.com)
Many experts recommend you share 20% of your promotional content and 80% of other valuable content you find. (marketinginsidergroup.com)
This allows us to deliver CPCs that are 80% less than average and CTRs 4-5 times higher than average. (marketinginsidergroup.com)
Companies that use personalization are seeing revenue increases ranging from 6-10%. (blog.hubspot.com)
From 2020 to 2022, eMarketer predicts that digital marketing will grow by 36% and take up 54% of marketing budgets! (marketinginsidergroup.com)
External Links
How To
Online Marketing Tips and Tricks from Top Brands

When creating content for online marketing, ensure it's relevant to your audience. If your audience doesn't care about your product or service, why would they care about your blog posts?
For example, if your website is about fashion accessories, make sure your content is related to fashion accessories. Not general web design tips.
Promote your business using social media platforms, such as Facebook, Twitter or LinkedIn. Businesses can use social media platforms to communicate with customers and share information.
The social media platforms also offer a great opportunity for clients to connect with each other.
Make content that is engaging and encourages users to share it with their friends. Shared content increases your site's visibility and traffic.
Regular updates keep your content relevant. It's better to post once a week or daily than every month.
Posted content tends to get more engagement, as readers expect to see new content.
You can include links in your content that link back to your homepage. This helps visitors find additional resources on your site.
Mobile-friendly content is essential. Mobile devices now outnumber desktop computers. Recent surveys show that more than 50% of internet users access websites using their smartphones.
To ensure that your content is well-viewed on smaller screens, test it on different smartphone and tablet browsers. It is obvious that any website developer or owner should adopt the mobile-first strategy.
It's not just about aesthetics, either. Mobile websites are more likely than desktop sites to convert well. Not only are they easier to navigate, but they also tend to load faster because of the smaller size of the site.
Your audience will value your content.
————————————————————————————————————————————–
By: Michael Brenner
Title: The Complete SEO Checklist for SaaS Companies
Sourced From: marketinginsidergroup.com/content-marketing/the-complete-seo-checklist-for-saas-companies/
Published Date: Wed, 03 May 2023 13:00:55 +0000
Get Your Free "No Credit Card Needed" Access to GrooveFunnels Here https://obboom.com/traffic
———-
By: Peter
Title: The Complete Checklist of SEO for SaaS Companies
Sourced From: internetlib.org/the-complete-checklist-of-seo-for-saas-companies/
Published Date: Wed, 03 May 2023 17:59:03 +0000